History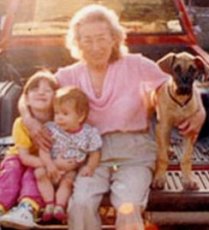 Clysta (Grandma), Betty, Zoe & Rajah
Clysta Telford was the founder of Dun Roman Danes. She purchased her first Dane in 1942. Mrs. Telford passed her love of the breed on to her Granddaughter-in-law, along with her kennel name Dun Roman Danes.
Clysta began showing Great Danes in the 1950's after moving to California from Colorado Springs.  One day while Clysta was at the grocery store; Herkey Pierce spotted her nice fawn male Great Dane in the back of Grandma's station wagon.  Herk left a note on the car asking Grandma to call her.
Grandma ended up hiring Herkey to show the Great Dane she discovered and he later became Ch Adonis of Dun Roman and Grandma's foundational stud dog.  Clysta and Herkey became lifelong friends, that friendship spanned 50 plus years and all of us kids came to know and love Herkey. And Grandma would say that not only did Herkey do a great job handling her dogs, she made the best Bloody Marys this side of the Mississippi.
In the late 80's Clysta decided that we needed a fresh foundation for Dun Roman and began a three year search for the perfect puppy bitch.  She looked at many litters and Jennifer Costantinidis had her hopes up several times, only to be told there was something in the pedigree or the structure of the puppy that she didn't like for a foundational bitch.  This was a big learning process for Jennifer and Grandma taught her a great deal about structure during the three years they searched for a puppy together. Grandma also had Jennifer work in her kennel and become familiar with lots of different temperaments and breeds. By the time Herkey called Grandma and said she had a litter she wanted her to take a look at, Jennifer believed she was never really going to get a Great Dane puppy.
Grandma had pick bitch out of the litter and we were blessed and got to add Natasha Rajah of Dun Roman (Ch Sanlodane's Jojo Dancer x Anadane's Imagine That) to our family. That day changed our life forever for the better. Rajah taught us far more than we ever taught her, and she is the mother of our first litter and champion (Ch Dun Roman's Aaron Von Raseac) under the new generation of Dun Roman.  Rajah lived to be 11 years old and set our high expectation for soundness/health/temperament and longevity in a line.
Nine months later at Rajah's first dog show, Jennifer Costantinidis met CB (BISS Ch Sheleea's Country Boy Von Raseac) and it was Brucie Mitchell who was holding his lead.  CB reminded Jennifer of her first quarter horse Hawkeye and to this day she maintains if he had been a horse he would have been one heck of a mount to ride.  The dog moved with such power and fluidity.  We have been lucky enough to own two of his daughters, both of whom have/had excellent temperament and have added bone/size and additional soundness to our line.
We credit CB with introducing Jennifer to Brucie and enhancing our life and our Dane program along the way.  Brucie was much more than a mentor to Jennifer, she was one of her dearest friends and someone Jennifer greatly admired and learned to count on as the years went by.  We have bred to seven stud dogs in the past 20 years, six of which go back to Brucie's beloved and outstanding Von Raseac line. 
Gene and Brucie taught Betty Jo how to handle in the driveway of their Fallbrook home years later, and it was a veteran CB who was so willing to cooperate and teach this young girl how to show a dog. Betty would set him up and then CB would fix his feet to where they should be and Brucie and Gene would say what a wonderful job Betty was doing.
Once Betty had it down we switched her to our veteran Rajah and the two of them were very successful in the ring. Later when Betty advanced to open junior she showed our handsome boy Blaze (Wolke's Blaze of Glory V Dun Roman). Betty was ranked as the #5 Dane junior handler in the United States and only competed through April of that year when Blaze passed away. It was then Betty decided not to show in juniors anymore and hit the conformation ring. The Mitchells were/are strong believers in positive encouragement and had lots of helpful tips that Betty uses to this day in the Specials/Group ring.
Years later it would be CB's daughter Maddie (Rosha's Maide of Honor V. Raseac) who would be so willing to cooperate and guide Zoe in the juniors ring under Brucie's watchful eye. Zoe would get her all set up and if the judge didn't immediately move them to the front of the line, Maddie would do what her father use to do and puff up her chest like a rooster and watch the judge walk by. This would definitely catch the judge's eye, that and the fact that Zoë could barely see over the top of Maddie's ears. This gave Zoë a great appreciation for shoulders and front structure at a very young age. It also made showing dogs more fun and that is why we feel she does so well with puppies in the ring today.
Brucie's contribution to the current line of Dun Roman can never really be put into words. The countless hours she spent ringside with Jennifer, the long afternoons in her home going over pedigrees and dogs of the past, her commitment and support; all of it is more than mere words will ever be able to express. When Jennifer says my mentor one knows she is speaking of Brucie Mitchell and the amazing knowledge she shared with those who were willing to listen and learn. Brucie's pet nickname for Jennifer was "My Sponge", and it is a nickname Jennifer is very proud of.
Since I took over the Dun Roman line in 1992 we have bred five litters, co bred five additional litters, and have one stud dog litter.  Three of the five litters we have co bred were sired by our stud dog.  To date we have finished 19 AKC champions & 2 AKC Grand Champions. With a truly limited breeding program, we attribute our success to the great lines/pedigrees we built our foundation upon.  We have been blessed with wonderful homes for our show and companion puppies and we have made a lot of good friends along the way. We hope in our own way, we have helped to make a difference for the breed, we are so passionate about.  We will continue to learn and strive to meet the high standards set for us by the old school philosophy of the people who introduced us to this amazing breed.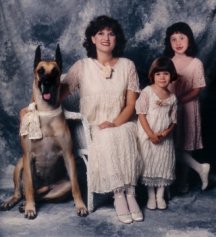 Jennifer (Granddaughter), Betty, Zoe & Raj