Dams/Sires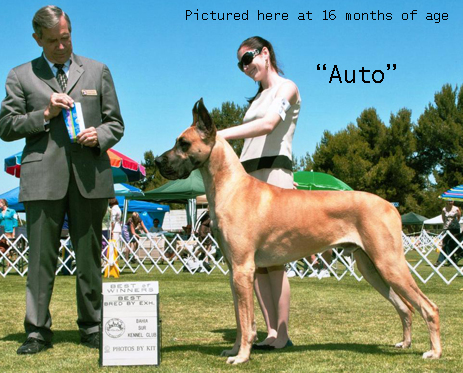 Ch Dun Roman's Getaway Driver WS33773401 14/12/2009
http://www.offa.org/display.html?appnum=1507027#animal OFA link
BISS Ch
Meadowoods I'm Stormin Norman
Fawn
WP324811/02
6/12/1990

OFA36G

Ch
MJM's Le Mans Von Meadowood
Fawn
WG160886
1/1/1988
Ch
Honey Lane's Casablanca
WF830956
Ch
Honey Lane's Go For It
Ch
Honey Lane's Sylvia V Rimac
Ch
MJM's Class Act of Lyndane
WF415354
Ch
Darrdane's Opening Bid
Ch
Murlo Scarlett O Harris
Ch
Meadowood's Dawn
Brindle
WG157450
29/6/1988

OFA64G

Ch
Rojon's Don-Sue Luke V Lost C
WF533844
Ch
Rojon's Doctor LY
Ch
Rojon's Teena Marie Don-Sue

Meadowood's Lady Godiva

Ch
Pedadane's Justinian

Misty Mountain's Emyn

BISS GCh
Dun Roman's Element Of Earth Lmld
WS18353801
13/7/2006

OFA37E

DNA #V591537

Ch
Dun Roman's Don't Talk Back, AOM
Fawn
WS03225101
30/1/2003OFA28G

DNA#V437402

Ch
Dreamaker's Lone Ranger, AOM

OFA24G

Ch
Von Raseac's Squire of Rosha

OFA24F

BISS Ch
Lagarada's Golden Dreamaker

OFA31G

Rosha Bella The Ball Von Raseac
WP96834403

OFA30G OFEL30

 BISS Ch

Sheleea's Country Boy Von Raseac OFA26G

DNA#V28290
 

Ch

Rosha's Talk of the Town OFA25E
Ch
Dun Roman's B R "QT" PI, AOM
WR042257/05
20/8/2001

OFA46G

BISS Ch
Bridane's Pi in the Sky
WP617448/08OFA34F

DNA#V32996

Ch
Von Raseacs Who's The Boss

OFA30G

BISS Ch
Bridane's Dizzy Miss Lizzy

OFA33F

Anadane's Sassafras

OFA34G

Ch
Anadane's Phoenix

OFA26F

Ch
Anadane's Oh What a Gal

OFA29E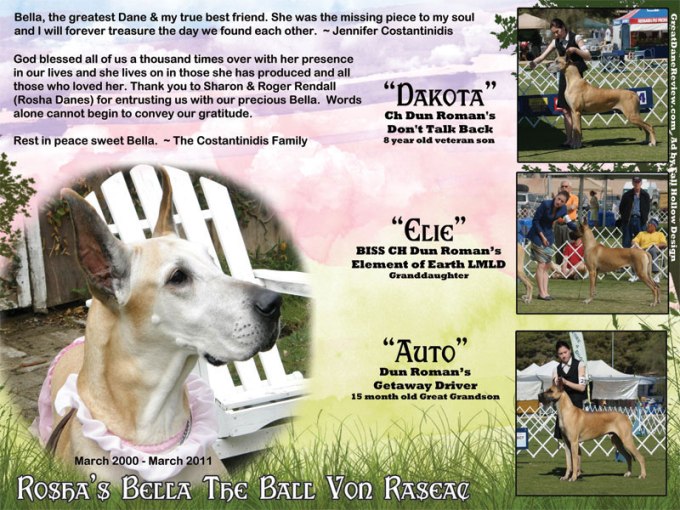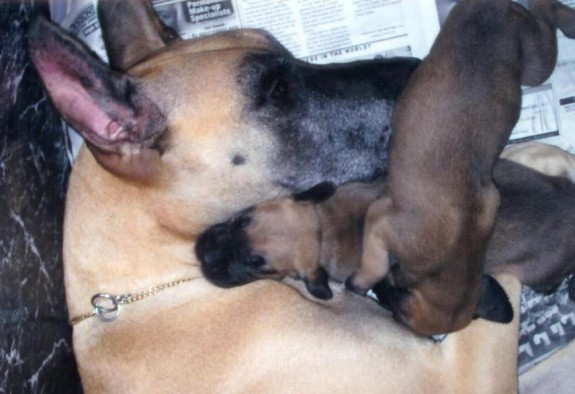 Ch Dun Roman's B R "QT" PI, AOM ~ "QT" with two of her newborn puppies.  "Elie" ~ BISS GCh Dun Roman's Element of Earth LMLD, AOM and "Scout" ~ Ch Dun Roman's Element of Air.  "QT" was a once in a lifetime Dane.  QT was the first Dane out of my breeding to place in the working group, my first Dane to finish with 3 majors (all taken in California) and our first bitch to produce an all champion litter including her multiple Best of Breed & Best in Specialty Show winning daughter.  QT was our easiest Dane to show, she was a natural.  She loved showing and would lay by me ringside until it was time to go into the ring.  Once QT walked into that ring she was a different dog, she was a show dog and a force to be reckoned with.  QT gave 100% and always strived to be at the front of the line, she absolutely knew the difference between winning and losing.  Out of the ring, QT was an accomplished thief of all things eatable, she made no apologizes for her love of food and never missed a meal.  QT also enjoyed hunting, a trait that lives on in her daughter today.  Of all our Danes QT was truly special, from her quiet nature to her regal presence.  Her beauty and grace in our home is deeply missed.  We loved QT madly and the owners of her sire, Dr. Michael & Beverly Galperin, loved her just as much as we did.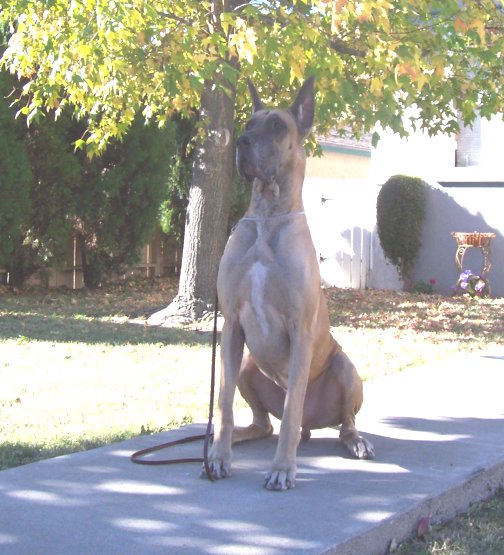 Ch Dun Roman's Don't Talk Back, AOM ~ "Dakota".  Dakota is the sire of our all champion Element Litter.  BISS GCh Dun Roman's Element of Earth LMLD, AOM, Ch Dun Roman's Element of Air, Ch Dun Roman's Element of Fire, Ch Dun Roman's Element of Water.  Dakota will celebrate his 11th birthday on January 30th, 2014.  We feel incredibly blessed to still be sharing our lives with this wonderful boy.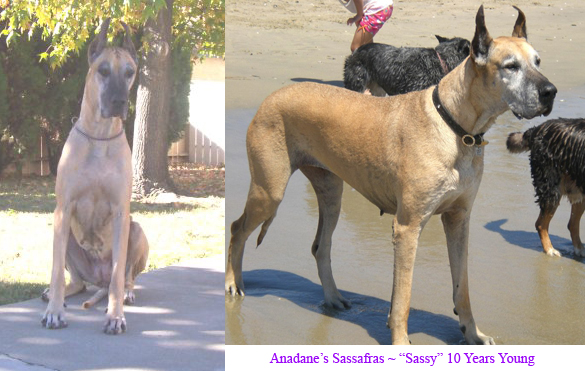 Sassy is the dam of our "B" litter that produced Ch Dun Roman's B R "QT" PI, AOM.  "QT" was out of BISS Ch Bridane's PI in The Sky ~ "PI" x Anadane's Sassafrass ~ "Sassy".  Sassy lived to be 12 years old and enjoyed anything that involved water.  Sassy loved to swim, jet ski, go to the beach, hike and open up presents on Christmas Day & her birthday.  Sassy was our one and only perfect Dane, in that you never had to ask her twice.  Sassy loved to please and did whatever was asked of her with a joyful happy spirit everyday of her life.  She is greatly missed by all.